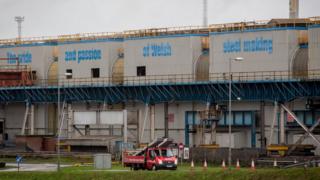 Tata Steel has announced it expects to cut 1,000 jobs across the UK as part of the company's restructuring plans.
Two thirds of the job losses will be management and office-based roles, Tata said.
1,600 positions are also set to go in the Netherlands, with 350 others elsewhere in the world.
Tata Steel's Europe CEO, Henrik Adam, said the company "cannot afford to stand still" as "the world around us is changing fast and we have to adapt".
Steelworker's union Community said it was "seriously concerned".
"We have been presented with short-term plans, which only create worry and uncertainty and do little to inspire confidence," it added.
"It feels like the company is just managing decline and we need a significant change of direction that can inspire the workforce that they have a future."
Tata has one steelmaking site and five other facilities in Wales.
Port Talbot employs 4,000 workers – nearly half of Tata's UK workforce – but the firm is yet to specify which UK locations will suffer the cuts.
The firm first announced plans to cut 3,000 jobs across its European business last week, in a bid to come to terms with a "severe" international steel market.
In a bid to improve financial performance, the company also expects to increase its sales of higher-value steels, optimise production processes and reduce its procurement costs.
Community said the job cuts were "a consequence of management failure to have a Plan B following the collapsed of the joint venture with Thyssenkrupp".
David Rees, Assembly Member for Aberavon, said the "uncertainty" of not knowing where the UK roles will be cut "does not help steelworkers, their families and the wider community".
Tata employs about 20,000 people worldwide and is owned by India's Tata.
Tata's UK plants were put up for sale in March 2016, leading to months of uncertainty.
However, the move was put on hold and a 10-year £1bn investment plan was announced for the UK's biggest steelworks at Port Talbot – if market conditions allowed – along with a commitment to try to avoid compulsory job losses.
Tata explored merger options with Thyssenkrupp over the next two years and a deal was finally agreed in the summer of 2018.
But competition concerns emerged over creating what would be Europe's second biggest steelmaker and the deal fell through.
The European Commission, which blocked the merger, said the companies "did not offer adequate remedies" to pricing and competition concerns.